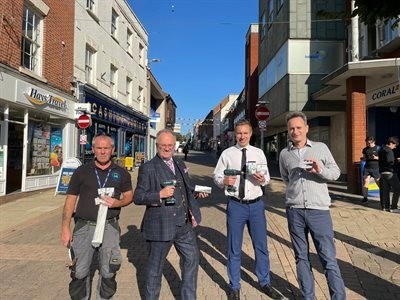 HOUSEHOLDERS IN HINCKLEY TO BENEFIT FROM FREE SECURITY UPGRADES TO BOOST SAFETY
Added at 22:25 on 20 January 2022
Nearly 300 householders in Hinckley will be offered free security upgrades as part of a major crackdown on burglary.
Leicester, Leicestershire and Rutland Police and Crime Commissioner Rupert Matthews has secured £432k from the Home Office's Safer Streets Fund to reduce the risk of crime and make the county's streets safer.
The funding is being invested in the town centres of Hinckley, Castle Donington, Lutterworth and Melton Mowbray - areas identified as having a disproportionately higher risk of street crime – and will see hundreds of homes fitted with high-quality security devices to stop burglars in their tracks.
In Hinckley, up to 291 homes will benefit from free security improvements to deter criminals and reduce the fear of crime.
Safer Streets partner 24-7 Locks Ltd will soon be visiting residents in the eligible areas of the town to offer measures such as high security door locks, window locks, door alarms and window alert alarms.
The PCC is working with a team of partners including Hinckley and Bosworth Borough Council, Harborough District Council, Leicestershire Police, North West Leicestershire District Council and Melton Borough Council to deliver a package of improvements to protect people and their property.
Welcoming the project in Hinckley, Mr Matthews said: "Anything we can do to make it harder for criminals to strike has to be positive and I am delighted to have secured this funding for Hinckley and other communities across the county.
"This project is about equipping people with the tools and support they need to prevent their homes being targeted by criminals.
"We know crime can be prevented by removing opportunity and increasing the risk of offenders being caught. Just as important, however, is alleviating law-abiding citizens of the fear of crime so they no longer feel apprehensive about leaving their homes and enjoying public spaces.
"Burglary is a deeply personal and distressing crime and through this unique partnership we will ensure as many people as possible are spared this fate and are encouraged to take proactive action over their safety.
"If you are contacted by our security partner 24-7 Locks Ltd, please take advantage of the free upgrades on offer – you simply cannot put a price on peace of mind and thanks to this funding you will not have to."
Executive Member for Housing and Community Safety at Hinckley and Bosworth Borough Council, Councillor Michael Mullaney added: "This is very welcome news and will be a real boost to our efforts to tackle anti-social behaviour and crime in the town centre. Speaking to people around Hinckley, feeling safe and secure in their homes and on the streets is something that is important to them. I hope that this investment in making homes in the town centre more secure will help people their feel safer in their homes and will help prevent opportunistic burglaries and break ins.
"Over £60,000 of this funding will be spent on upgrading our already successful CCTV network, with an additional eight cameras. I would urge eligible householders to take advantage of the funding available to upgrade their own home security."
Overall, Safer Streets will offer up to 1,104 households free security upgrades worth a total of £186k across the four towns while funding will also be dedicated to removing graffiti in Hinckley. Communities will benefit from the installation of new police automatic number plate recognition (ANPR) cameras, additional CCTV and additional radios to expand the radio link scheme in the Melton and Hinckley areas. All households within the eligibility catchment area will be informed by post. Residents are urged to call the number provided to arrange a booking slot.
The Government's Safer Streets Fund aims to stop offences that blight communities and cause misery to victims. Nationally, the Government has announced a £18.3m funding package in the second phase of its Safer Streets Fund. A total of 40 areas across England and Wales have been chosen to receive grants to tackle neighbourhood crime and clamp down on burglary, robbery and vehicle theft.
Find out if you are in the area covered by the funding: https://www.leics.pcc.police.uk/Safer-Streets